Are you looking for BUK JAMb and Departmental cut off mark? Are you interested in knowing what BUK cut off mark for 2020/2021 is? I am happy to inform you that BUK cut off mark is now available here on this page.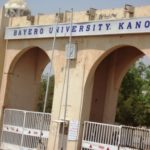 Passing BUK's cut off mark is a requirement before one can successfully gain admission into the Bayero University Kano. An Update on BUK JAMB Cut Off Mark And Departmental Cut Off Mark for 2020/2021 academic session has been released and can be found below.
What Really is BUK Cut Off Mark?
Cut Off Mark is the minimum point a student applying for admission must attain in the Unified Tertiary Matriculation Examination and or Post-Utme/Screening Exercise in order to be considered for admission into a particular school. 
So, BUK cut off mark is the minimum score a candidate must attain in UTME before he or she is considered for admission into the Bayero University Kano.
Note: Any candidate who fails to meet the cut off mark requirement will not be allowed to participate in the post UTME screening exercise of the University.
Also, check out the following
BUK Cut Off Mark for 2020/2021 Admission
All BUK Aspirants are hereby informed that the general cut-off Mark for admission into the University is 180.
This means that all those who wrote JAMB And Scored up to 180 or a minimum of 180 are eligible to buy BUK Post-Utme or Admission form and also sit for the Examination should there be.
All those who scored less than 180 (179,170,175,160,169, 150, 140, 130, 120, etc) are to note that the Bayero University Kano will not accept them for admission.
See List Of Courses Offered In The Bayero University Kano (BUK)
BUK Departmental Cut Off Mark
A lot of aspirants are also concerned to when the departmental cut off mark of the Bayero University Kano will be released.
Departmental cut off mark is the minimum cut off mark for admission into various departments in a particular University.
This cut off mark is usually available after the release of the school's screening or post utme admission form.
Proceed to check below for the Bayero University Kano departmental cut off marks.
DEPARTMENT / UTME Score
1. FACULTY OF AGRICULTURE is 180 and above
2. FACULTY OF ARTS AND ISLAMIC STUDIES is 180 and above
3. FACULTY OF ALLIED HEALTH SCIENCES is 200 and above
4. FACULTY OF BASIC MEDICAL SCIENCES is 180 and above
5. FACULTY OF CLINICAL SCIENCES is 220 and above
6. FACULTY OF COMPUTER SCIENCE & IT is 180 and above
7. FACULTY OF COMMUNICATION is 180 and above
8. FACULTY OF DENTISTRY is 220 and above
9. FACULTY OF EARTH & ENV. SCIENCES is 180 and above
10. FACULTY OF EDUCATION is 180 and above
11.FACULTY OF ENGINEERING is 180 and above
12. FACULTY OF LAW is 200 and above
13. FACULTY OF LIFE SCIENCES is 180 and above
14. FACULTY OF MANAGEMENT SCIENCES is 180 and above
15. FACULTY OF PHARMACEUTICAL SCIENCES is 220 and above
16. FACULTY OF PHYSICAL SCIENCES is 180 and above
17. FACULTY OF SOCIAL SCIENCES is 180 and above
18. BLIND & DEAF CANDIDATES (FOR ALL PROGRAMMES) is 150 and above