Are you interested in knowing the resumption date for most of the tertiary institutions in Nigeria? If so, this page contains the list of schools in Nigeria and their respective resumption date.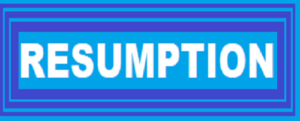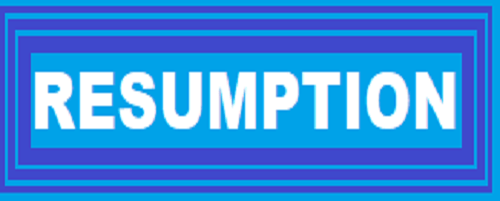 The general public are by this notice informed that the resumption dates for the list of tertiary institutions provided here on this page has been updated and can be found below.
Schools And Their Resumption Date
Click on any of the school below to see their resumption date.
AAPOLY Resumption Date
AAU Resumption Date
AAUA Resumption Date
Abdu Gusau Poly Resumption Date
ABSU Resumption Date
ABU Zaria Resumption Date
ABUAD Resumption Date
Achievers University, Owo Resumption Date
Adamawa Poly Resumption Date
Adeleke University Resumption Date
ADSU Resumption Date
African University of Science and Technology Resumption Date
Ajayi Crowther University (ACU) Resumption Date
AKSU Resumption Date
Akwa Ibom Poly Resumption Date
Al-Hikmah University Resumption Date
Al-Qalam University, Katsina Resumption Date
Anchor Univeristy, Lagos Resumption Date
Arthur Jarvis University Resumption Date
ATBU Resumption Date
Auchi Poly Resumption Date
Augustine University Resumption Date
Babcock University Resumption Date
BASUG Resumption Date
Baze University Resumption Date
Bells University of Technology Resumption Date
Ben Poly Resumption Date
Bingham University Resumption Date
BIU Resumption Date
Bowen University Resumption Date
BSUM Resumption Date
BUK Resumption Date
Caleb University Resumption Date
Caritas University Resumption Date
Chrisland University Resumption Date
Clifford University Resumption Date
Coal City University Resumption Date
COOU Resumption Date
Covenant University Resumption Date
Crawford University Resumption Date
Crescent University Resumption Date
Crown Hill University Resumption Date
CRUTECH Resumption Date
DELSU Resumption Date
Delta Poly Resumption Date
Dominican University Resumption Date
Eastern Palm University Resumption Date
EBSU Resumption Date
Edo University, Iyamho Resumption Date
Edwin Clark University Resumption Date
Eko University of Medical and Health Sciences Resumption Date
EKSU Resumption Date
Elechi Amadi Poly Resumption Date
Elizade University Resumption Date
ESUT Resumption Date
Evangel University Resumption Date
Fed Poly Ado Resumption Date
Fed Poly Bida Resumption Date
Fed Poly Damaturu Resumption Date
Fed Poly Ede Resumption Date
Fed Poly Ekowe Resumption Date
Fed Poly Idah Resumption Date
Fed Poly Ilaro Resumption Date
Fed Poly Mubi Resumption Date
Fed Poly Nasarawa Resumption Date
Fed Poly Nekede Resumption Date
Fed Poly Offa Resumption Date
Fed Poly Unwana Resumption Date
Fountain University Resumption Date
FUAM Resumption Date
FUBK Resumption Date
FUD Resumption Date
FUDMA Resumption Date
FUGASHUA Resumption Date
FUGUS Resumption Date
FUKASHERE Resumption Date
FULAFIA Resumption Date
FULOKOJA Resumption Date
FUNAAB Resumption Date
FUNAI Resumption Date
FUOTUOKE Resumption Date
FUOYE Resumption Date
FUPRE Resumption Date
FUTA Resumption Date
FUTMINNA Resumption Date
FUTO Resumption Date
FUWUKARI Resumption Date
GAPOSA Resumption Date
Godfrey Okoye University Resumption Date
Gregory University, Uturu Resumption Date
GSU Resumption Date
Hallmark University Resumption Date
Hezekiah University Resumption Date
IBBU Resumption Date
Igbajo Poly Resumption Date
ImoPoly Resumption Date
IMSU Resumption Date
IMT Enugu Resumption Date
IUO Resumption Date
JABU Resumption Date
KADPOLY Resumption Date
Kano Poly Resumption Date
KASU Resumption Date
Kebbi Poly Resumption Date
Kings University Resumption Date
Kogi Poly Resumption Date
Kola Daisi University Resumption Date
KSU Resumption Date
KSUSTA Resumption Date
KUST Wudil Resumption Date
Kwara Poly Resumption Date
Kwararafa University, Wukari Resumption Date
KWASU Resumption Date
Landmark University Resumption Date
LASPOTECH Resumption Date
LASU Resumption Date
LAUTECH Resumption Date
Lead City University Resumption Date
MAPOLY Resumption Date
MAUTECH Resumption Date
Mcpherson University Resumption Date
MIAPoly Resumption Date
Michael and Cecilia Ibru University Resumption Date
MOUAU Resumption Date
Mountain Top University Resumption Date
NasPoly Resumption Date
NDU Resumption Date
Niger Poly Resumption Date
Nile University of Nigeria Resumption Date
Northwest University, Kano Resumption Date
NSUK Resumption Date
NubaPoly Resumption Date
OAU Resumption Date
Obong University Resumption Date
Oduduwa University Resumption Date
OOU Resumption Date
OSPOLY Resumption Date
OSUSTECH Resumption Date
Pan African University Resumption Date
Paul University Resumption Date
Plapoly Resumption Date
PLASU Resumption Date
Poly Ibadan Resumption Date
PTI Resumption Date
Redeemer's University Resumption Date
Renaissance University Resumption Date
Rhema University Resumption Date
Ritman University Resumption Date
RSUST Resumption Date
RUGIPO Resumption Date
Salem University Resumption Date
Samuel Adegboyega University Resumption Date
SLU Resumption Date
Southwestern University, Nigeria Resumption Date
SSU Resumption Date
Summit University, Offa Resumption Date
Tansian University Resumption Date
TASU Resumption Date
TASUED Resumption Date
Tech-U Resumption Date
UDUSOK Resumption Date
UI Resumption Date
UMYU Resumption Date
UNIABUJA Resumption Date
UNIBEN Resumption Date
UNICAL Resumption Date
UNIJOS Resumption Date
UNILAG Resumption Date
UNILORIN Resumption Date
UNIMAID Resumption Date
UNIMED Resumption Date
UNIOSUN Resumption Date
UNIPORT Resumption Date
UNIUYO Resumption Date
University of Africa, Toru-Orua Resumption Date
UNIZIK Resumption Date
UNN Resumption Date
WUFPBK Resumption Date
YABATECH Resumption Date
YSU Resumption Date