Are you interested in UNIOSUN Past questions and Answers? Do you want todownload UNIOSUN Post UTME Past Questions And Answers PDF for FREE?  If so, UNIOSUN post UTME past questions and answers in PDF has been compiled and can be downloaded by following the instructions below.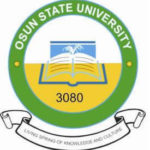 This is to inform the general public that UNIOSUN Post UTME past Questions and Answers is now available and can be dowloaded using the procedures below.
Also, See The Osun State University (UNIOSUN) Cut off Mark Here.
WHY DO YOU NEED UNIOSUN PAST QUESTIONS AND ANSWERS?
There are so many reasons why you need PDF Version of UNIOSUN Past Question and answers and why you need it now.
1. UNIOSUN IS COMPETITIVE: If you don't already know, Osun State University is one of the best Federal Universities in Nigeria and as such, a lot of people apply to study there each year.
A lot of people apply to study there and only few admission spaces or slots of about 6000 to 9000 are available out of 75000 people that apply for it; This makes UNIOSUN very competitive and very hard to gain admission into.
So to increase your chances of gaining admission, you need to start preparing for UNIOSUN Post UTME screening right now.
You can do that by studying their past questions to see how they questions look like and the kind of question they ask.
2. High JAMB Score Will Not Guarantee You Admission Into UNIOSUN: Do you know that Some People who Scored above 300 in Jamb this year may end up not getting admission into Osun State University? You may want to doubt it but it's true.
Why do we say so?
This is because, Admission is not guaranteed by Jamb score alone in any University but by a combination of JAMB score and POST-UTME.
For example: The requirement in the Osun State University (UNIOSUN) is that any candidate that will be considered for admission into the University must have scored 200 in JAMB and at least 50% in the Post-Utme examination before the JAMB and Post utme score of the person will be added to check if the person has passed the cut off mark for the course of choice.
So, even if a candidate score 350 in JAMB and is unable to score 50% and above in UNIOSUN Post Utme ; The person will not be considered for admission.
So for those who scored high in Jamb to be able to gain admission,he or she must also score high in UNIOSUN Post-Utme.
Those who had a low Jamb score can still increase they chances of gaining admission into Osun State University by using our Post-Utme app to practice and prepare for post-UTME or by requesting for the PDF copy of the Past Questions And Answers.
Key Features on UNIOSUN Past Questions And Answers
This is the official Post-UTME Past Questions and answers of the Osun State University (UNIOSUN), for candidates intending to write Post-UTME into all faculties in the school.
Complete with questions and answers
Select Your School Below To Get Their Past Questions and Answers PDF