When is ACU resumption date for 2020/2021? If you want to know when Ajayi Crowther University will be resuming academic activities for the current session then you are going to benefit from this post created primarily for updates on ACU resumption date.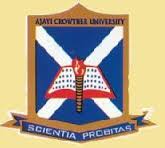 Sequel to the introduction made above, the general public are hereby informed that ACU resumption date for 2020/2021 academic session has been announced by the management of the Ajayi Crowther University.
I know you are much eager to see when ACU will be commencing academic activities and you are going to get just that. Before then, let us give a brief background information on Ajayi Crowther University.
ACU Resumption Date
January 17, 2021.
Ajayi Crowther University will resume on the 17th of January, 2021.
A. Fresh Students
 Fresh students are to resume on Sunday, January 17, 2021 and report at the Modupe and Folorunso Alakija, Faculty of Law Auditorium
 They must come along with evidence of payment of:

 Acceptance fee
 Accommodation fee
 Tuition fee

 Each student must come along with the Digital chest X-ray with Radiologist's Report and report at the Health Centre for the medical laboratory tests.
 Each student must come with his/her supply of face masks and hand sanitizers as Covid-19 protocols must be strictly observed from the gate.
Please NOTE that wearing of face masks is compulsory for all staff and students as sanctions will be applied for non-compliance.
B. Returning Students
Returning students are to continue with their online lectures from home.
We pray that the good Lord will bless our parents and grant the students traveling mercies to the campus.
You can find update on the resumption date of Ajayi Crowther University above. However, the federal government of Nigeria has given the authorisation for all institutions in Nigeria to remain closed until January 18, 2021.
Bearing that in mind, ACU resumption date will be as scheduled above if there is no strike action. So if there is no strike is in play, ACU will resume January 2021, if not, then it will be as from February 2021 or beyond.
We are going to update this page as soon as a fixed resumption date for Ajayi Crowther University is officially made public by the management. Until then, keep on checking this page for update on ACU resumption date.