Do you want to know your JAMB mock exam center and time? are you looking for how to check your mock exam center and time? If so, let me officially tell you that the procedures to check your JAMB mock exam center and time has been well explained in this post.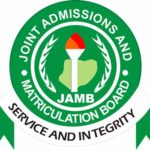 All JAMB candidates for 2020/2021 are hereby informed that JAMB mock examination date for 2020 has been scheduled.
First of all, let me remind you that the official date for the 2020 JAMB Mock examination is on the 18th of February 2020.
The JAMB mock exam is one day preparatory examination organised for those who have registered for JAMB to prepare them ahead for the upcoming JAMB examination.
However, according to the management of the Joint admission and matriculation Board (JAMB), the mock exam is not compulsory.
Check out the following questions below concerning the JAMB Mock Examination.
How To Check Your JAMB Mock Exam Center and Time
Through Email
The first method to check your JAMB exam center and time is to login to your email address. Please note that you are to only login to the email address you used to register your JAMB.
Also: Do well to check your Junk/Spam E-mail folder just in case the slip got delivered there instead of your inbox.
3. If you see your Mock exam details in your email, you can proceed and print it out.

Through JAMB Portal
For details on when the main JAMB examination is starting, click here.