When is JAMB exam date for 2021? If you are interested in JAMB 2021 exam date then continue reading this post as we have provided you the date that JAMB examination for 2021 will be commencing.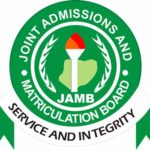 Sequel to the introduction already provided above concerning JAMB exam date 2021, this is a notice informing all candidates who will be writing JAMB for 2021 that JAMB exam date has been announced by the management of the Joint Admission and Matriculation Board.
ABOUT JAMB
JAMB is an acronym for Joint Admission And Matriculation Board. It is an examination body responsible for regulating Admission into Universities, Polytechnics and Colleges of Education in Nigeria and across some other African Countries.
JAMB Exam Date 2021
June 19, 2021.
when is jamb 2021/2022 starting? JAMB exam will start on the 19th of June, 2021.
When is JAMB Exam 2021 Exam Starting?
19th of June, 2021.
JAMB 2021 exam will commence on the 19th of  June, 2021.
JAMB examination is scheduled to hold between June 19 and July 3, 2021.
Note: JAMB Examination date for 2021/2022 will be officially when JAMB form is out.
However, to see your specific JAMB exam date, centre and time; you will need to reprint your JAMB examination slip for details on that. For instructions on JAMB Reprinting, click here.
JAMB Pre-Examination Tips
While you await for JAMB examination date to approach, you however, you need to prepare and put some thing in order prior to the examination date. Here are some of the things you need to do.
JAMB Registration
Before you can participate to write JAMB, you need to have registered for it. To, register; See JAMB Form| How To Buy JAMB Form here.
JAMB Syllabus
After registration, you need to start preparing for JAMB. For you to prepare effectively, you need to know the topics you need to study. See JAMB Syllabus for all subjects here.
JAMB Past Questions and Answers
You also need to study past questions and answers prior to your JAMB exam date so you can get used to and familiarise yourself with the questions that JAMB sets. Download JAMB CBT Practice App here.