For aspiring students of the University of Pennsylvania, it is very important to be aware of the Upenn Acceptance Rate, which is explained thoroughly in the article.
The University of Pennsylvania, a member of the Ivy League, has evolved into an uber-elite and highly selective institution over its long history of approximately 250 years.
Those who had family members attending Penn in the past encountered a vastly different admissions landscape compared to today's applicants in the 2020s.
For instance, back in 1980, UPenn's acceptance rate was above 40%, and the average SAT score hovered around 1240. In stark contrast, present-day applicants face an acceptance rate below 7%, and the median SAT score of current undergraduates surpasses 1,500.
While the admissions process is challenging for applicants aiming for the general university, getting into Wharton—the world's premier business school—requires navigating even more demanding levels of difficulty.
UPenn vs Penn State
For those starting their college search, it's natural to wonder about the distinction between UPenn (also known as "Penn") and the similarly nicknamed Penn State. In brief, Penn State is a distinguished public university with its main campus located approximately three hours away from Philadelphia. On the contrary, UPenn is a private Ivy League institution situated in Philadelphia and is known for its highly selective admissions process, making it one of the top-ranked and exclusive universities in the United States.
Penn: Early Decision Acceptance Rate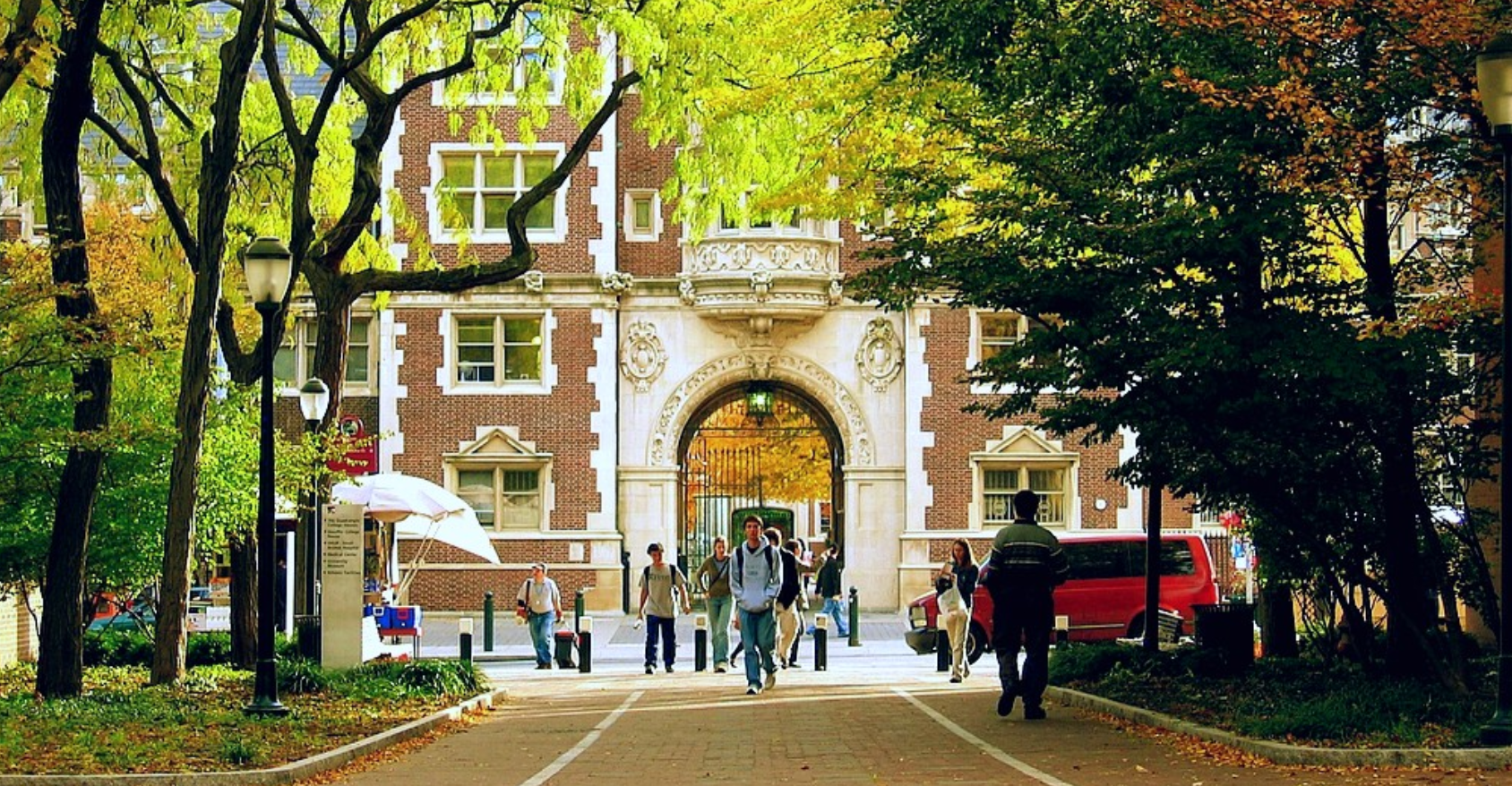 The University of Pennsylvania (UPenn) received 8,000 early decision applications for the Class of 2027, and the number of students accepted remains undisclosed. Looking at the previous year's data for the Class of 2026, UPenn accepted 15.6% of the 7,795 applicants. Based on this available information, it is estimated that the UPenn Early Decision acceptance rate for the Class of 2027 will be approximately 15%.
Penn Acceptance Rate 
The University of Pennsylvania received an impressive number of over 59,000 applications for the Class of 2027, making it the largest applicant pool in its history. The university aims to enroll approximately 2,400 students for this class. While UPenn has chosen not to disclose the specific acceptance rate for the Class of 2027, it is anticipated to be lower than the rate for the previous year, Class of 2026. We will provide details on those acceptance rates, along with historical data, in the following sections.
University of Pennsylvania acceptance rate 2026: 6%
UPenn acceptance rate 2025: 6%
UPenn acceptance rate 2024: 8%
Penn Admissions – SAT, ACT, GPA, and Class Rank
Enrolled students in the Class of 2026 had a mid-50% SAT range of 1510-1560; the ACT the range was 34-36. The prior year, 93% hailed from the top decile of the high school class and the average unweighted GPA is 3.9.
Wharton – Undergraduate Acceptance Rate
Current acceptance rates specifically for the Wharton undergraduate program are not publicly available. However, in a relatively recent year, when the overall acceptance rate for the University of Pennsylvania was 9.2%, the acceptance rate for the Wharton School was notably lower at 7.1%. This suggests that gaining admission to Wharton is likely to be more challenging compared to other undergraduate schools at the university.
In the Class of 2026 at Wharton, there was a diverse student body composition. Approximately 52% of the students were female, 68% identified as students of color, and 15% were first-generation students. The total number of students in the cohort was 521.
Admissions Trends & Notes 
18% of the Class of 2026 were first-generation students.
92% engaged in community service and 40% worked paid jobs.
UPenn will remain test-optional through the 2023-24 admissions cycle.
Students admitted in the ED round came from 43 states and 60 countries.
The Class of 2026 saw the highest total of applicants from Philadelphia ever admitted to Penn.
One-third of admitted Class of 2027 students engaged in research during high school.
How Penn Evaluates Applicants
The University of Pennsylvania considers six factors as "most important" in their admissions decisions, which include the rigor of high school coursework, GPA, standardized test scores, application essay, recommendations, and character/personal qualities. Notably, the university has extended its temporary test-optional policy for the 2023-24 admissions cycle. The next tier of "important" factors comprises class rank, interview, extracurricular activities, and talent/ability.
Having a compelling "hook" in the form of extracurricular activities is crucial when applying to the University of Pennsylvania. For instance, among the numerous applicants, there are more than 1,000 NCAA Division I athletes vying for a place at Penn. Some of these athletes have the advantage of being recruited by a Penn coach, giving them an edge in the admissions process.
However, sports represent just one avenue among many where a candidate's unique talents can make a significant impact when applying to an Ivy League institution like UPenn.
Living in the Deep South or less-populated states such as Montana or Idaho could potentially enhance your chances of admission compared to residing in states like Pennsylvania or New York. Colleges, including Penn, often strive to have representation from each U.S. state in their freshman classes, which means being from a more remote area may provide an advantage in the admissions process.
Behind the University of Pennsylvania Acceptance Rate 
Let's look at the demographics of current Penn undergrads:
Geographically, the undergraduate student body is comprised of the greatest number of students from the following states:
Pennsylvania
New York
New Jersey
California
Maryland
Florida:
Texas
Massachusetts
Looking at ethnic identity, the breakdown was as follows (percentages do not add up to 100% as applicants can list multiple races):
White: 31%
Asian American: 28%
Hispanic: 11%
African American: 8%
International: 13%
Two or more races: 5%
Unknown: 5%
Current international studies hail from the following areas of the globe:
Africa: 8%
Asia: 49%
Latin America: 10%
Europe: 17%
North America: 13%
Oceania: 4%
The gender breakdown of current undergraduates is as follows:
The University of Pennsylvania Yield Rate
The University of Pennsylvania boasts a yield rate of over 70%, indicating that a significant proportion of the students who receive acceptance offers decide to enroll at the university.
This high yield rate can be attributed, in part, to the fact that a substantial portion of the incoming class is admitted through binding early decision. In comparison, other prestigious institutions such as Duke, Northwestern, Notre Dame, and Claremont McKenna have yield rates closer to 60%.
Tips for Applying to Penn
The 59,000+ Quaker hopefuls should all be aware of the following:
An interview is not a mandatory part of the admissions process, but 90% of applicants are typically offered one with an alumni interviewer. Interviews are primarily informational in nature (although they are part of the admissions process) and can be conducted in person or virtually.
For advice on what types of questions you should be prepared to answer/ask visit our blog—College Interview Tips.
Unlike many Ivies, Penn does consider "demonstrated interest" so be sure to make contact with the university throughout the process. This can include a campus visit, an email to an admissions officer, connecting with the school via social media, or attending a Penn event in your area.
Do everything you can to "bring your application to life." This means seeking out recommenders who can speak to your passion and help your unique personality and attributes pop off the page. Essays will also be key…
UPenn Acceptance Rate (Continued)
Make sure to dedicate sufficient time and effort to the two supplemental essays and short answers required by Penn. In the 2022-23 cycle, they were as follows:
Essays
Write a short thank-you note to someone you have not yet thanked and would like to acknowledge. (We encourage you to share this note with that person, if possible, and reflect on the experience!) (150-200 words)  
How will you explore community at Penn? Consider how Penn will help shape your perspective and identity, and how your identity and perspective will help shape Penn. (150-200 words)  
Considering the specific undergraduate school you have selected, describe how you intend to explore your academic and intellectual interests at the University of Pennsylvania. (150-200 words)
If you have an outstanding academic record with top grades and exceptional standardized test scores, considering the University of Pennsylvania for your college list is a worthy decision. However, unless you possess star-level athletic prowess or have significant advantages like being the offspring of a U.S. President, it is challenging for most applicants to have better than a 50/50 chance of gaining admission to Penn's freshman class.