Whether you're residing in the state or an International student seeking admission to the Georgia Institute of Technology, you can find well-researched information about the Georgia Tech Acceptance Rate in the article.
In 1990, the MLB's Braves were building a young and talented team, while Atlanta gained fame as the "Motown of the South" with rising Southern hip-hop artists like Usher and TLC.
During the same period, CNN, an Atlanta-based cable news channel, drew 10 million viewers nightly as they covered Operation Desert Storm live. Amidst this, Georgia Tech, a public university in Midtown Atlanta, received 5,843 applicants with an acceptance rate of 69%.
As the years passed, the Braves' dynasty ended, TLC disbanded, and CNN's popularity waned, but Georgia Tech's acceptance rate remained stable at 69%. The university's efforts to increase research expenditures and enrollment began yielding results in the mid-2000s.
However, Georgia Tech's prestige soared while the acceptance rate plummeted. By 2013, only half of applicants were accepted, and the following year, it dropped to just one-third. The Class of 2027 experienced a more competitive acceptance rate of 16%.
Presently, Georgia Tech has become an elite institution, especially for those seeking admission to the College of Engineering or College of Computing, rivaling other renowned schools like MIT, Caltech, and Carnegie Mellon, especially for out-of-state applicants.
The university's history might explain why many applicants underestimate Georgia Tech's level of selectivity.
To remedy this issue, we will provide those considering applying to Georgia Tech a full understanding of the following topics:
===>Georgia Tech EA acceptance rate
===>When Does Georgia Tech EA Come out?
===>Georgia Tech acceptance rate – Class of 2027
===>Georgia Tech out-of-state acceptance rate
===>SAT, ACT, and class rank of accepted Georgia Tech applicants
===>Admissions trends
===>Georgia Tech's system for rating applicants
===>A look at the demographics of Georgia Tech undergraduates
===>The percent of accepted students that attend the university
===>Tips for applying
===>How to approach the Georgia Tech supplemental essay
===>How to assess whether applying to Georgia Tech is even worth the $75 application fee (for you)
Let's begin with an examination of the most recent admissions data.
Georgia Tech Early Action Acceptance Rate – Class of 2027
Georgia Tech follows a policy where only Georgia residents can apply via Early Action 1 (EA1). In January 2022, the university admitted 2,577 applicants through EA1, resulting in a 40% acceptance rate. Among the students admitted to the Class of 2027 through EA1, they represented 369 different Georgia high schools, 107 counties, and 13% came from rural areas.
On the other hand, the EA2 deadline typically falls approximately two weeks after the EA1 deadline and is open to non-residents. For the Class of 2027, those who applied via EA2 saw a significantly lower acceptance rate of 10%, with over 27,000 out-of-state EA2 applicants in this application cycle.
When Does Georgia Tech EA Come out?
For out-of-state students, applying through the Early Action 2 round,  admissions decisions came out on January 27th last year. EA 1 decision for Georgia residents came out on December 9th.
Georgia Tech Acceptance Rate – Class of 2027
52,354 total applications were submitted for a place in the 2023-24 freshman class. The overall Georgia Tech acceptance rate was 16%. This is the lowest clip in school history. Recent acceptance rates are as follows:
Class of 2026: 17%
2025: 18%
2024: 20%
Georgia Tech Out of State Acceptance Rate
The Georgia Tech out-of-state acceptance rate was 12% for the Class of 2027. The in-state acceptance rate was a far more favorable 36%.
Georgia Tech Admissions – SAT, ACT, and Class Rank
For the Class of 2026 (most recent data available), the mid-50% SAT score range was 1360-1540, and the ACT range was 31-35. A remarkable 91% of the attending students ranked in the top decile of their high school class, and 98% were in the top quartile. The average unweighted GPA for freshmen entering the university in the 2022-23 academic year was an impressive 3.9.
Admissions Trends & Notes 
Firstly, applications increased 3.5% from the previous cycle.
Further, 1,807 high schools were represented among EA 2 admits.
First-generation students make up 10% of the admitted Class of 2027.
The 2023-24 admitted cohort included International students from 103 nations.
Lastly, the incoming freshman class is expected to be roughly 600 seats larger than four years ago.
18% of the most recent enrolled class were either the valedictorian or salutatorian of their high school class.
How Georgia Tech Rates Applicants
There are eight factors that Georgia Tech ranks as being "very important" to their admissions process: rigor of secondary school record, GPA, essays, extracurricular activities, paid work experience, volunteer work, and character/personal qualities.
Factors such as state residency, geographical residence, and test scores are considered "important" in the admissions process. Additionally, factors like recommendations, talent/ability, first-generation status, legacy status, and racial/ethnic status are "considered."
Georgia Tech values genuine excellence in one or more activities rather than filling all ten spaces on the Common App Activity List. They emphasize that students are typically involved in 3-5 activities in a meaningful way, so there is no pressure to complete every entry.
While completing your application, it is recommended to prioritize listing the activities you are most passionate about. For instance, if you have achieved success in a prestigious international science or mathematics competition, coauthored original research, contributed to app development, or dedicated your skills to a charitable organization, these accomplishments are highly valued by Georgia Tech.
When conducting a holistic review, the GT admissions team wants to see evidence of:
Commitment
Self-motivation
Personal Responsibility
Compassion for Others
Initiative
Leadership
Entrepreneurism
Intellectual Curiosity
Who Actually Gets Into Georgia Tech?
Let's look at the demographics of the Class of 2026.
Geographically, the greatest number of incoming freshmen hailed from the following states :
California
Florida
Maryland
Massachusetts
Illinois
New Jersey
New York
North Carolina
Pennsylvania
Texas
Virginia
The most intense competition for admissions is among applicants from states with a large number of highly qualified candidates, specifically from the entire Northeast and the West Coast. On the contrary, if you come from less populated states like Alaska, North Dakota, or Montana, your geographical location is more likely to give you an advantage in your admissions prospects.
Looking at ethnic identity, the breakdown for the freshman cohort entering in fall of 2022 was as follows:
White: 34%
Asian: 42%
Hispanic: 10%
African American: 9%
Two or more: 5%
The countries sending the greatest number of students into the GT Class of 2026 were:
Bangladesh
Brazil
Canada
China
Colombia
India
Nigeria
Pakistan
South Korea
Vietnam
The breakdown by gender is as follows:
With far fewer women entering the university, female applicants certainly have a significant edge over male applicants.
The extracurricular pursuits most commonly pursued by GT students were in high school were:
Community service (81% participated)
The arts (60% participated)
Work (50% held a part-time job)
Yield Rate
Georgia Tech's yield rate stands at 43%, which is significantly lower than prestigious institutions like Harvard and Stanford, but comparable to many other selective private universities. Schools such as NYU, Rice, USC, and Carnegie Mellon also share a similar yield rate with Georgia Tech.
Tips for Applying to Georgia Tech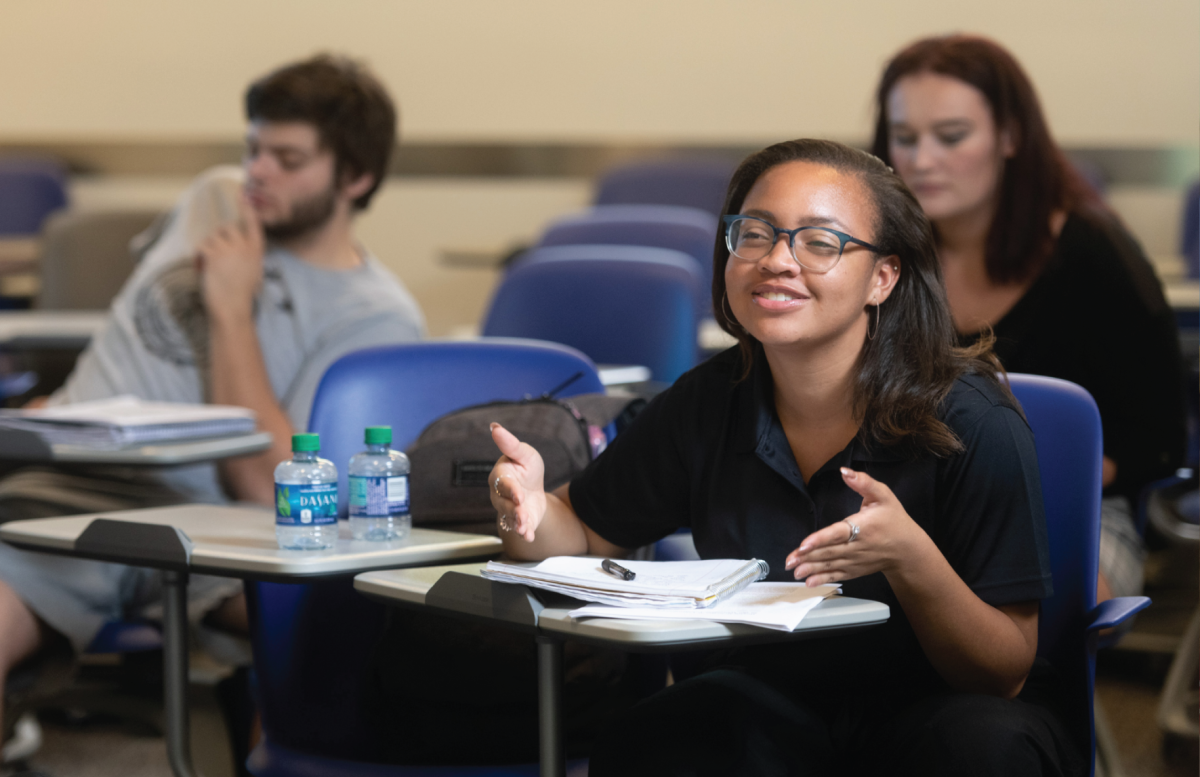 If you plan on joining the 50,000+ Yellow Jacket hopefuls for the next admissions cycle, you should know the following:
Georgia Tech does not offer any type of in-person or alumni interviews for incoming freshmen. As a result, one of the best ways for admissions officers to get to know you on a personal level is through your two required recommendations. For tips on which teachers to target and how to ask, revisit our blog on the subject.
Georgia Tech does consider "demonstrated interest" so you may be judged on whether or not you made a campus visit (in non-pandemic times), contacted an admissions officer, etc. Given the school's lower yield rate (compared to some other elite schools), it is never a bad idea to reach out to an admissions officer with a question, attend a virtual session, or engage with the school on social media.
Make sure to dedicate sufficient time and effort to the lone supplemental essays presently required by Georgia Tech
To summarize, if you possess strong academic and extracurricular qualifications, there's no harm in applying to Georgia Tech. However, like other highly competitive colleges in 2023-24, even the most exceptional students should have a well-rounded college list with a mix of "target" and "safety" schools.
Those who are best equipped to navigate the challenging admissions process will showcase a transcript with consistently high grades in a rigorous curriculum, exceptional standardized test scores (when possible considering the pandemic), and display at least one or two talents and passions beyond academic achievements.