If you're curious about what the Princeton Acceptance Rate is, the article presents a detailed guide on the Princeton University admission exercise.
In the '80s movie "Risky Business," Tom Cruise's character, Joel Goodson, experiences an unlikely acceptance to Princeton University after a memorable interview.
During that time, Princeton's acceptance rate stood at 20%, which was relatively less intimidating.
But today, the acceptance rate has dramatically decreased to about one-fifth of that figure, making audacious and profanity-laden alumni interviews at a high school party even more improbable to result in an actual acceptance letter from Princeton. The path to gaining admission to Princeton is far from straightforward.
In the current admissions landscape, all aspiring Princeton students showcase exceptional academic qualifications, and applicants with a perfect unweighted GPA of 4.0 historically have only been accepted at a mere 8.0% rate.
As a result of that, any candidates exhibit equally impressive accomplishments beyond the confines of the classroom.
Where is Princeton University?
Princeton University is situated in the serene suburban town of Princeton in central New Jersey. It has been an integral part of Mercer County since 1746, making it the fourth oldest college in the United States.
Princeton Acceptance Rate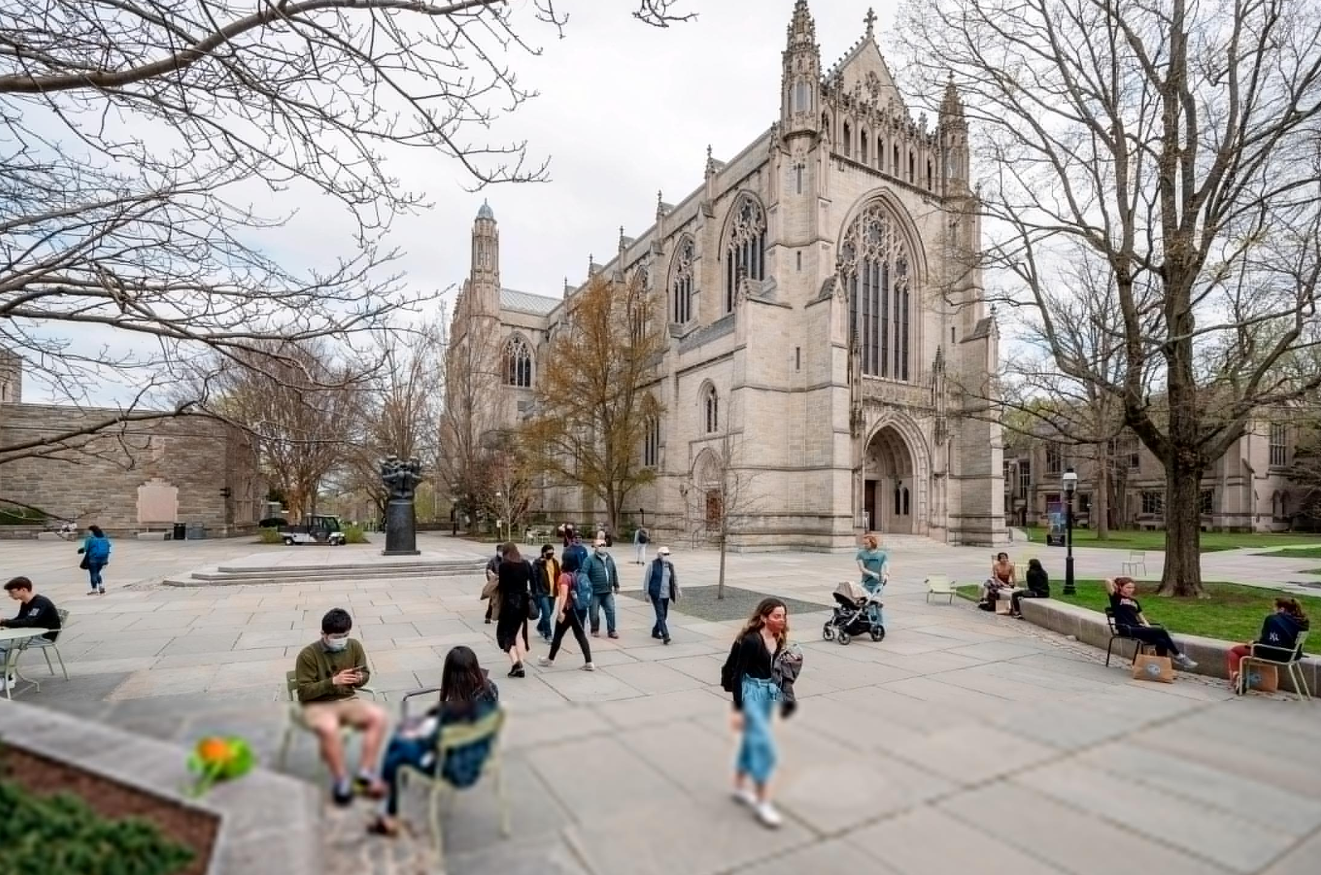 Currently, Princeton University has chosen not to release admissions data for the Class of 2027, including the total number of applicants. However, it is estimated that the acceptance rate for this class falls around 5% to 6%.
For the 2022-23 freshman class, Princeton received 38,019 applications and extended offers of admission to 2,167 students, resulting in an acceptance rate of 5.7%. Over time, historical acceptance rates at Princeton University have varied, but specific data for previous years are not mentioned in this context.
Class of 2025: 4%
Class of 2024: 6%
2023: 6%
The last time that Princeton's acceptance rate was in the double digits was for the Class of 2009 (11%).
Princeton Admissions – SAT, GPA, and Class Rank
Based on the latest available data for the Class of 2026, the middle 50% SAT range for incoming freshmen at Princeton University was approximately 1490-1580. For the ACT, the range fell between 33 and 35.
Over 90% of the enrolled students ranked in the top 10% of their high school class, highlighting the academic excellence of the admitted cohort. The average unweighted GPA for these students stood at 3.9 or higher.
Admissions Trends & Notes 
The percentage of members of the class whose parents went to Princeton (legacies) has been around 10% in recent years.
The students come from all 50 states, plus Washington, D.C., Guam, Puerto Rico, and the U.S. Virgin Islands.
International students from 76 countries were part of the Class of 2027.
61% of students qualified for financial aid.
Lastly, 17% of those in the Class of 2026 are first-generation students.
How to stand out on my Princeton application
Princeton University seeks young individuals who are already among the best in their fields or have the potential to achieve greatness.
The university places significant importance on diversity, aiming for a varied student body with different backgrounds, talents, and perspectives.
The admissions staff values qualities such as integrity, a strong passion for learning, and dedication to both academic and non-academic pursuits.
Notable alumni from Princeton exemplify the caliber of students the university seeks, including influential figures in politics, writing, entrepreneurship, and the arts.
Recruited athletes also receive favorable consideration, as Princeton boasts an impressive array of 38 NCAA Division I sports teams, constituting 20% of the student body.
For guidance on standing out in extracurricular activities, one can refer to the previous blog titled "How Many Extracurricular Activities Do I Need for College?"
How Princeton Rates Applicants
Princeton University places significant importance on nine factors during the admissions process, considering them as "very important." These factors include the rigor of the high school courseload, class rank, GPA, SAT/ACT scores, essays, recommendation letters, extracurricular activities, talent/ability, and character/personal qualities.
Having said that, Several other items are "considered" as part of the admissions process, such as an interview, first-generation status, legacy status, geographical location, ethnicity, volunteer work, and paid work experience.
Princeton seeks genuine excellence in applicants' achievements, particularly in one or more activities.
Examples of such excellence include winning prestigious physics, chemistry, or math competitions, being among the top cellists in the United States, conducting original scientific research with a university professor, or initiating a charitable organization that has had a significant impact at the local, national, or global level.
Who Actually Gets Into Princeton?
Geographically, the Class of 2026 was comprised of the greatest numbers of students from the following U.S. states:
New Jersey: 225
New York: 166
California: 149
Massachusetts: 63
Texas: 52
Florida: 56
Illinois: 55
Pennsylvania: 51
Connecticut: 41
Georgia: 41
Maryland: 41
The fewest number of students came from the following U.S. states:
Vermont: 2
Alaska: 0
North Dakota: 1
South Dakota: 1
Montana: 2
Wyoming: 1
West Virginia: 3
Idaho: 2
Mississippi: 1
Alabama: 1
The fiercest competition for admissions at Princeton University comes from states with abundant qualified applicants, particularly those in the entire Northeast and West Coast regions. On the other hand, being from the Deep South states like Alabama or Mississippi or less-populated states like Wyoming or North Dakota can potentially offer an advantage to your admissions chances at Princeton.
Looking next at ethnic identity, the breakdown of the Class of 2025 was as follows:
Asian American: 25%
Hispanic: 8%
African American: 9%
Multiracial (non-Hispanic): 7%
American Indian: <1%
International Citizens: 15%
Looking at the type of school attended, the majority of 2021-22 freshmen at Princeton hailed from public high schools. The breakdown was as follows:
Public: 60%
Independent Day: 17%
Religiously Affiliated: 13%
Independent Boarding: 9%
Home Schooled: <1%
Military: <1%
Non-US Schools: 14%
Yield Rate
The fiercest competition for admissions at Princeton University comes from states with abundant qualified applicants, particularly those in the entire Northeast and West Coast regions. On the other hand, being from the Deep South states like Alabama or Mississippi or less-populated states like Wyoming or North Dakota can potentially offer an advantage to your admissions chances at Princeton.
Tips for Applying to Princeton
If you plan on joining the 38,000+ Princeton hopefuls for the next admissions cycle, you should know the following:
Princeton does invite some qualified applicants to participate in an alumni interview. While this is not a required component of one's application, students should avail themselves of the opportunity if an interview can be arranged in their geographic area.  For advice on what types of questions you should be prepared to answer/ask visit our blog—College Interview Tips.
Next, Princeton does not consider "demonstrated interest" so you will not be judged on whether or not you made a campus visit, contacted an admissions officer, etc.
Princeton University Acceptance Rate
Make sure to dedicate sufficient time and effort to the supplemental essays and short answers required by Princeton. In the 2022-23 cycle, they were as follows:
Princeton Essay
1) Please briefly elaborate on one of your extracurricular activities or work experiences that was particularly meaningful to you. (Response required in about 150 words.)
2) At Princeton, we value diverse perspectives and the ability to have respectful dialogue about difficult issues. Share a time when you had a conversation with a person or a group of people about a difficult topic. What insight did you gain, and how would you incorporate that knowledge into your thinking in the future? (About 250 words).
3) Princeton has a longstanding commitment to service and civic engagement. Tell us how your story intersects (or will intersect) with these ideals. (About 250 words).
4) What is a new skill you would like to learn in college? (50 words or fewer).
5) What brings you joy? (50 words or fewer).
6) What song represents the soundtrack of your life at this moment? (50 words or fewer).
7) Princeton requires you to submit a graded written paper as part of your application. You may submit this material now or any time before the application deadline. If you choose not to upload the required paper at this time, you may mail, e-mail, or upload your paper through the applicant portal.
Summary of Princeton University Acceptance Rate
Students who score within the mid-50% range on the SAT/ACT and also rank at the very top of their high school class have a strong chance of being considered viable candidates for Princeton University. It is therefore worthwhile for exceptional students to invest their time and the application fee of $70 to apply.
However, the final decision on acceptance, which is given to less than 4% of applicants, is influenced by various factors highlighted in this blog. As with any Ivy League institution, it is essential for all applicants to have a well-balanced college list that includes both "target" and "safety" schools.