FUNAI Pre-Degree Admission list for 2017/2018 academic session has been released by the management of the Federal University Ndufu Alike Ikwo Abakaliki.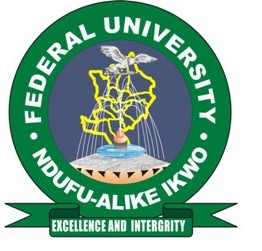 This is to inform all those who applied for Pre-degree programme in the Federal University Ndufu Alike Abakaliki (FUNAI) for 2017/2018 that the pre-degree admission list of the university for 2017/2018 session is out.
Recommended: See FUNAI Pre-Degree Academic Calendar Here.
FUNAI PRE-DEGREE ADMISSION LIST NAMES.
The names of the admitted candidates, application numbers and courses are indicated below;
Names of Candidates admitted into Pre-Degree Programme, 2017/2018
1.SFS531706290003
Ajah Ifeanyichukwu
Electrical and Electronics Engineering
2.SFS531707050001
Chikadibia Unigwe Michael
Electrical and Electronics Engineering
3.SFS531707050002
Celin Attah Ogechi
Economics
4.SFS531707070005
Opara Udochukwu Samuel
Computer Science
5.SFS531707110002
Favor Enegbe Ogar
Criminology and Security Studies
6.SFS531707120006
Attah Loveth Ifunanya
Microbiology
7.SFS531707140001
Chinemerem Kenechukwu Christiantus
Anatomy
8.SFS531707170001
Apra Odey Philip
Mass Communication
9.SFS531707200002
Otisi Victor Kelechi
Computer Science
10.SFS531707200004
Emmanuel Noah
Civil Engineering
11.SFS531707270002
Eze Miracle Chidera
Anatomy
12.SFS531707270004
Ofem Ubiapi Fred
Criminology and Security Studies
13.SFS531707280002
Sam Baridanu John
Anatomy
14.SFS531707280003
Ottih Chinemerem Innocent
Criminology and Security Studies
15.SFS531707310002
Onyekachi Okeke Gideon
Criminology and Security Studies
16.SFS531707310007
Ogbonna Chijioke Sampson
Mass Communication
17.SFS531708010001
Ocheze Chinelo Stella
Anatomy
18.SFS531708010002
Iroegbu Ruth Ogonnaya
Physiology
19.SFS531708040003
Okoro Chibunna Patrick
Psychology
20.SFS531708070004
Raymond Oneleogah Afamefuna
Fine and Applied Arts
21.SFS531708080002
Eni Nwoyi Arikpo
Electrical and Electronics Engineering
22.SFS531708080003
Igboaba Chizoba Christiana
Computer Science
23.SFS531708090001
Ayuba Mabel Shokwaga
Mass Communication
24.SFS531708090002
Odunze Perpetua Chizoba
Business Administration
25.SFS531708100001
Nwali Norah Chidera
Anatomy
26.SFS531708100005
Nwaeze Prince Chinaemeze
Electrical and Electronics Engineering
27.SFS531708120002
Upeh Aho Igbor
Anatomy
28.SFS531708140005
Ikechukwu Chisom Precious
Biology
29.SFS531708150002
Obiegue Cosmas Agafenachukwu
Civil Engineering
30.SFS531708150008
Ibenne Kingsley Nkemnaechem
Criminology and Security Studies
31.SFS531708160002
Ogbonna Tochukwu Kenneth
Accounting
32.SFS531708160006
Ogbonna Ifesinachi Obinaya
Accounting
33.SFS531708170001
Ekemma Oko Oluomachi
Anatomy
34.SFS531708170009
Peter Iniiso Ntiense
Political Science
35.SFS531708170010
Obi Neji Lekpara
Electrical and Electronics Engineering
36.SFS531708210001
Nwaguiyi Jacob Frank
Civil Engineering
37.SFS531708210013
Obasi Chinyere Angela
Microbiology
38.SFS531708210018
Ugwu Ndubuisi Collins
Electrical and Electronics Engineering
39.SFS531708220003
Esinulo Idimmachi Joyful
Anatomy
40.SFS531708220004
Ejikeme Ifechidelu Chika
Anatomy
41.SFS531708230004
Uguru Chioma Gladys
Criminology and Security Studies
42.SFS531708230005
Ibekwe Chinenye
Business Administration
43.SFS531708230006
Emmanuel Nwankwo Chukwuemeka
Accounting
44.SFS531708230011
Okafor Henry Ebube
Civil Engineering
45.SFS531708240005
Ogbonnaya Chioma Jennifer
Psychology
46.SFS531708250003
Egbenta Roseline Amanghe
Anatomy
47.SFS531709050001
Inya Ifunanya Stella
Mass Communication
See The List of Courses Offered in FUNAI Here.