For aspiring students of Fordham University, it is very important to be aware of the Fordham Acceptance Rate, which is explained thoroughly in the article.
To gain acceptance into Fordham University, it's crucial to be well-informed about their admission criteria, encompassing aspects like acceptance rate, GPA, SAT, and ACT scores. This guide provides a concise overview of the essential prerequisites for securing admission to the institution.
Approximately half of the candidates accepted into Fordham University have achieved SAT scores ranging between 1300 and 1480, or ACT scores between 30 and 33. A quarter of admitted students have scored higher than this range, while another quarter have scored below it. The application deadline for submission is January 1st, and there is a $70 application fee imposed by Fordham University.
The admissions committee at Fordham University places significant emphasis on a student's GPA as a key academic metric. Additionally, the applicant's position in their high school class hierarchy, if available, is taken into account. Letters of recommendation also hold importance in the eyes of the admissions officials at Fordham University.
Brief Overview Of Fordham University
The University is home to three campuses: 
The urban Lincoln Center campus in Manhattan

 

The Professional campus in Westchester

 

The Gothic Rose hill campus is located in the Bronx

 
Every academic program at the university features a rigorous curriculum. Moreover, the limited number of students in each class ensures direct interaction with professors. This enables students to learn in a nurturing and considerate atmosphere. Through its commitment to superior education set in a remarkable setting, Fordham University is esteemed as a preeminent Jesuit institution.
Fordham Acceptance Rate
The Fordham University acceptance rate carries significant importance for prospective applicants aiming to secure admission to the institution. Ranked as the 40th most competitive college in New York, the university boasts an acceptance Rate of 53.5%. During the previous admissions cycle, a total of 47,936 individuals submitted applications for various programs. Only 25,180 of these applicants were extended admission offers.
The university upholds stringent academic criteria for admission consideration. Typically, individuals falling within the top 18% percentile of standardized test takers are deemed suitable candidates for admission. The majority of incoming college freshmen are those who have excelled as top-performing students during their high school years.
Upon examining the admissions data for Fordham University, it is evident that the acceptance rate for the year 2022 has experienced a decline compared to the rate observed in 2021.
The following table demonstrates the shift in Fordham admissions and acceptance rates in 2021 and 2022: 
Year 

 

Total number of applicants

 

Accepted applications

 

Fordham acceptance rate

 

2021

 

46,160

 

26,925

 

58.3%

 

2022

 

47,936

 

25,180

 

53.5%

 
Fordham University Admissions Requirements
Fordham considers the following factors most critical for offering admission to prospective students: 
The secondary school record of the applicant

 

Extracurricular activities

 

GPA

 

Volunteering works

 

Standardized test scores

 

Work experience

 

Talent of applicant

 

Letters of recommendation

 

Character certificate of the applicant

 
While all the aforementioned elements play a pivotal role in securing an admission offer from the university, a greater emphasis is placed by admission officers on applicants with strong GPAs and compelling letters of recommendation from faculty members at their previous schools.
Consequently, to enhance the likelihood of being chosen, it becomes imperative to enhance your GPA in order to make a favorable impression on the admission officers and gain a competitive advantage over fellow applicants.
Fordham University GPA Requirements
The typical GPA threshold for admission at Fordham University stands at 3.59. This criterion underscores the university's strong competitiveness, necessitating applicants to possess a commendable GPA in order to secure enrollment in their desired program. The institution primarily extends offers to students who have achieved within the B+ range during their high school years.
In terms of average GPA prerequisites, the university occupies the 29th position in New York, signifying its elevated standards for admission. To bolster your prospects of being chosen, it's advisable to contemplate enrolling in demanding Advanced Placement (AP) and International Baccalaureate (IB) courses during your high school tenure.
The Following Table Demonstrates Fordham University GPA Requirements and Selection Chances:
Fordham University GPA

 

Fordham acceptance rate

 

Competitiveness

 

Above 3.75

 

40%

 

Good 

 

3.50 – 3.75

 

26%

 

Above average

 

3.25 – 3.50

 

17%

 

Below average

 

3.00 – 3.25

 

13%

 

Reach 

 

2.75 – 3.00

 

5%

 

Reach 

 

2.50 – 2.75

 

1%

 

Low 

 
Fordham University ACT Requirements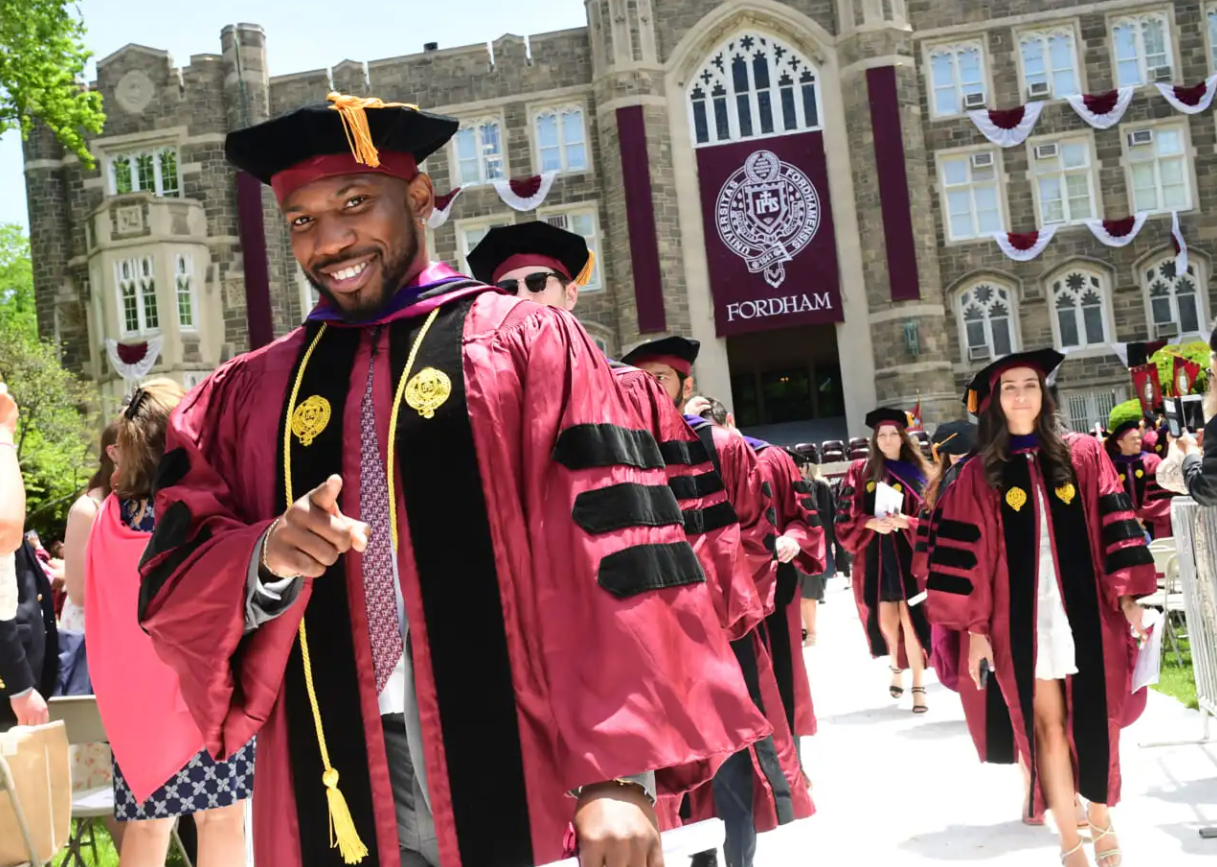 An applicant's ACT score holds significant sway over Fordham University's admissions evaluation. During the previous year, approximately 39% of applicants included their ACT scores as part of their admission submissions.
Based on data from the preceding year, the university tends to admit candidates who have achieved an ACT score surpassing 27. Those applicants boasting a composite ACT score exceeding 30 are given precedence when it comes to admission into their preferred programs. However, there are instances where the institution extends acceptance to individuals with ACT scores as low as 24.
The average ACT requirement underscores Fordham University's highly competitive nature. Generally, individuals who fall within the top 13% percentile of national test takers are deemed suitable candidates for admission. This stringent ACT score requirement positions the university at the 18th spot among competitive institutions in New York.
The Following Table Provides Information on ACT Scores and Their Competitiveness for Fordham Admissions:
ACT score

 

Fordham acceptance rate

 

Competitiveness

 

Above 32

 

Above 68%

 

Good 

 

29 – 32

 

53 – 68%

 

Above average

 

27 – 29

 

42 – 53%

 

Below average

 

25 – 27

 

33 – 42%

 

Reach 

 

Below 25

 

Below 33%

 

Low 

 
Fordham SAT scores
requirement
An applicant's SAT score is accorded significant importance by the university as a decisive factor in granting admission. In the preceding year, approximately 71% of applicants included their SAT scores as part of their admission applications. The institution generally seeks candidates whose SAT scores place them within the top 20% of test-takers.
As per the admission statistics from the previous year, the average SAT score for admission at Fordham University stands at an estimated 1230 out of a possible 1600. Individuals whose SAT scores fall below the university's average encounter challenges in securing a place.
Fordham University holds the 16th position in New York concerning the consideration of the highest SAT scores during the admission process. There are instances where the institution has admitted students with SAT scores as low as 1140.
The Following Table Demonstrates the Applicant's Chances of Admission According to Fordham SAT Scores:
SAT score

 

Fordham acceptance rate

 

Competitiveness

 

Above 1410

 

Above 66%

 

Good 

 

1320 – 1410

 

53 – 66%

 

Above average

 

1230 – 1320

 

40 – 53%

 

Below average

 

1140 – 1230

 

28 – 40%

 

Reach 

 

Below 1140

 

Below 28%

 

Low 

 
Steps to Increasing Your Chances of Admission to Fordham University
Aim at Achieving a GPA Higher than 3.59:
Your grade point average (GPA) holds the utmost significance in securing admission to the institution. Each year, the university receives over 45,000 applications. To distinguish yourself from fellow applicants, it's essential to capture the attention of the admission officers. A strong GPA greatly aids in achieving this goal.
For those in the initial stages of high school, it's advisable to enroll in demanding courses that are accessible to them, aiming to attain a high GPA. Conversely, individuals with limited time to enhance their GPA might contemplate boosting their test scores as a means to offset a lower GPA.
Typically, the majority of applicants to Fordham University boast commendable academic records. Hence, essays hold considerable sway as a determining factor in securing a place. These essays offer an opportunity to showcase your exceptional qualities and stand out from the competition. The university mandates applicants to complete an essay and respond to a brief query regarding challenges faced while making a positive impact on the community.
While the short answer is optional, it's imperative to carefully craft your response, illustrating your alignment with the institution's values. Moreover, the admissions committee is keen to understand the contributions you can bring to the campus. Essays serve as an excellent platform to exhibit your genuine self and demonstrate how your presence would be advantageous to the university.
Provide Great Recommendations to Prove your Value

:
Submitting a letter of recommendation from a faculty member or counselor at your previous school is essential. This recommendation should emphasize not only your academic achievements but also delve into your qualitative attributes.
Get involved in Extracurricular Activities

:
Fordham University highly values applicants who can demonstrate their exceptional abilities beyond traditional academics. This includes factors like volunteer work, special talents, personal character, and unique creative experiences. These elements play a vital role in the university's selection process for potential students.
It's important to note that not all activities hold the same level of significance. For instance, an applicant who took the initiative to lead a movement focused on enhancing female security will be given more weight than an applicant who merely took part in the movement. As a result, candidates should prioritize enhancing the quality of their extracurricular involvements in order to increase their chances of securing admission to the university.
Improve your Standardized Test Scores

:
While not as central as GPA, strong ACT and SAT scores play a significant role in obtaining an acceptance from Fordham University. Roughly 40% of applicants provide ACT scores, while 70% submit their SAT scores as part of their application. Impressive standardized test results can capture the attention of admission officers and potentially offset a lower GPA for certain candidates.
Early Decision And Early Action Application
Fordham University follows three admission methods which are: 
Early Action or EA

 

Early Decision or ED

 

Regular Decision or RD

 
Applying through the Early Decision (ED) route enhances the likelihood of being admitted to the desired program. Nevertheless, ED comes with its disadvantages. Once accepted via ED, the applicant is obligated to enroll at the university, making it suitable solely for those confident in their commitment to obtaining a degree from Fordham University.
While gaining admission to Fordham University is a demanding feat due to substantial competition and elevated score prerequisites, candidates can effectively secure admission by constructing a strong application. Furthermore, it's advisable to engage with admission officers for insights into the application procedure and to gain a better grasp of campus life.
Frequently Asked Questions 
1. What college GPA do you consider for transfer applicants?
Accomplished transfer applicants possess a history of strong academic performance within a college curriculum at a different institution. We recommend a minimum college GPA of 3.0 or above, while accepted Fordham students typically maintain an average undergraduate GPA of 3.5.
Approximately fifty percent of transfer applications are granted acceptance. Fordham employs a comprehensive admissions evaluation process that considers all aspects of an applicant's academic background.
2. Who are the members of the Class of 2024?
The distinctiveness of Fordham University stems from its student body. Our students come from various parts of the United States and the world, representing a rich spectrum of racial and ethnic backgrounds. Despite these differences, they share a common ambition to shape a more promising tomorrow. Operating as a Jesuit institution, we enthusiastically embrace individuals of all faiths, including those who may be uncertain about their religious beliefs.
3. How does the Fordham University application process work?
Gaining admission to Fordham University is a challenging endeavor. The university received a total of 46,160 applications for the Class of 2025; however, only 26,925 applicants were extended offers of admission, resulting in an overall acceptance rate of 58%. While Fordham maintains a competitive acceptance rate, your prospects for fall 2022 admission hinge on the quality and merit of your application.