This article provides guides on you can login to ESUT portal at portal.esut.edu.ng so you can check admission status, pay school fees, register for post UTME, or perform other ESUT prospective candidates or students related activities.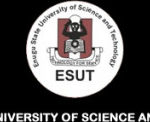 Before you proceed, here are a few of the things you should be expecting from this post concerning ESUT Portal.
* What ESUT portal is all about
* What you can do on ESUT portal and
* How to Login to ESUT portal.
Let's proceed already shall we?
About ESUT Portal (portal.esut.edu.ng)
ESUT official portal is portal.esut.edu.ng. This is a specially designed website by the Enugu State University of Technology that allows applicants, students and sometimes even staffs to perform academic related operations on their respective profiles.
To login to ESUT portal, you will need login details. This login details are mostly supplied by the authorities of the Enugu State University of Technology. Accounts can also be created on ESUT portal by the administrator.
Things You Can Do On ESUT Portal
You can be able to carry out the following activities on ESUT portal:
How To Login to ESUT Portal
How To Check Admission Status On ESUT Portal
How To Check Result On ESUT Portal