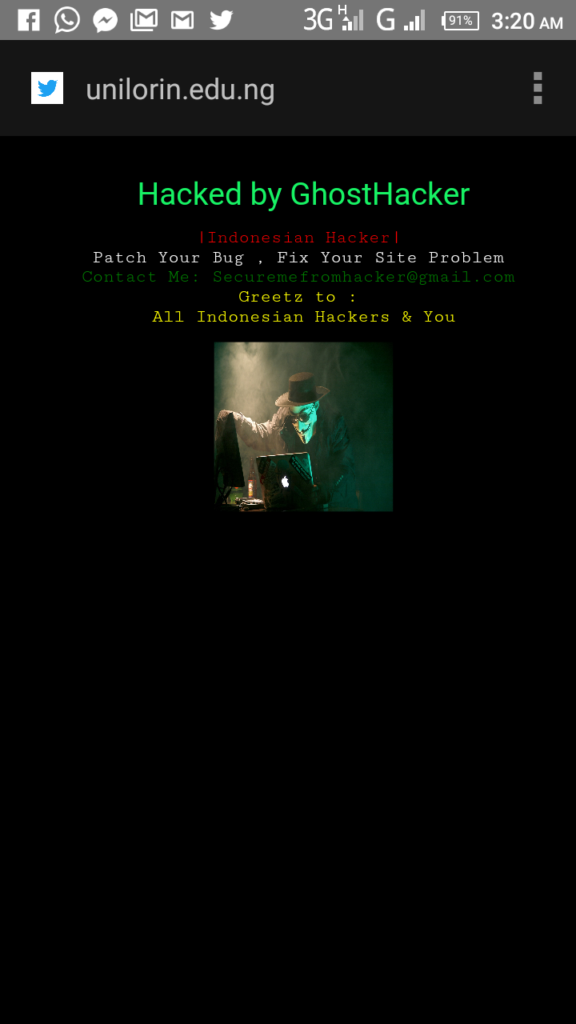 The University of Ilorin Website which was initially hacked some months ago by one Nigerian hacker due to Vulnerabilities which was not fixed by the University IT/webmaster has again been attacked (Hacked) not by a Nigerian Hacker, But this time an Indonesian Hacker or Group of Hackers called "GhostHacker" (What the Heck).
A warning statement which is similar to that posed earlier by the initial Nigerian Hacker has been re-iterated again by the Ghost Hackers which is "Patch Your Bug. Fix Your Site Problem.
The Hacker has attached a Contact me Email address which is to be forwarded at [email protected]
This could be one of the reason why UNILORIN supplementary admission list (IF ANY) for 2016/2017 has not yet been released after the announcement of the first (1st) batch admission list and 2nd batch admission list.
Could it be that University of Ilorin Web admin did not heed that initial warning given to them by the First Hacker to Fix the problem and or Vulnerabilities on they site?
What do you think about this situation? Use the comment section below.