We have shared about 10 Universities in Germany for Masters program which is ideal for all local and international students.
Germany is renowned for its intellectual prowess in a broad range of fields as well as its highly regarded educational institutions around the world.
Each year, Germany welcomes thousands of foreign students who are attracted by the country's high standards of education, amazing employment prospects, and affordable or free tuition! Only a few enrollment fees and a few extra charges are required of students.
Students are now traveling across borders to pursue a Masters's degree at the top universities in the globe in order to pursue a highly profitable job.
Germany is one of the most popular places for Masters students to study abroad.
Students are drawn to the top Masters institutions in Germany for a variety of reasons, including the high quality of instruction, the focus on research, and the cost.
How to Select a University for Masters in Germany?
The next issue is how to choose a university for your master's program now that you are aware of the top MS programs in Germany.
Here are some guidelines to assist you in deciding which German master's programs are the best:
Considering your hobbies and career goals,
choose a field that appeals to you.
Choose the top master's programs in Germany from the list, then review the courses they offer in your area of study or field of focus. The official university website has a current and comprehensive list of all programs which you can always check out.
Make a short list of the courses you want to take at several colleges. This is very important.
University program curricula can be compared, so pick the one that best meets your demands based on your area.
Verify the eligibility and prerequisites for the program first before you get started.
Examine additional aspects of the selected universities, such as the location, pricing, environmApply to the program that perfectly suits your interests after carefully evaluating all the above aspects.ent, student employment chances, and housing options. This is also very significant.
After careful consideration of all the factors above, apply for the program that aligns with your goals.
Read Also: 10 Best Universities in Canada for Masters Program
10 Top Universities in Germany for Masters Program
Looking for university choices is never going to be a problem for you. You can enroll in over 300 public universities as well as more than 100 private applied science universities.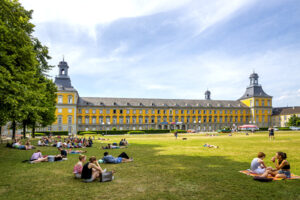 Here are some of the top Universities in Germany for Masters program:
Technical University of Munich
RWTH Aachen
Technical University in Berlin
Freie University of Berlin
Humboldt University of Berlin
Karlsruhe Institute of Technology (KIT)
Technische Universität Dresden
Technical University of Munich (TUM)
University of Stuttgart
University of Hamburg
University of Leipzig
1. Technical University of Munich
Among the Universities in Germany for Masters that is the Leading research university on our list is the Technical Universität of Munich (TUM) which is situated in Munich, Germany.
The institution provides a variety of undergraduate, graduate, and doctoral degrees respectively in areas like:
Engineering,
The natural sciences,
Medicine, and
The social sciences.
TUM is famous for its first-rate facilities and infrastructure, as well as for its emphasis on cutting-edge research and innovation.
TUM is a top choice for students looking for a top-notch education and training in a range of subjects thanks to its varied student body and strong international presence.
Read Also: 10 Best Sweden Universities for International Students
2. RWTH Aachen University
RWTH is an abbreviation for "Aachen University". It is a research university located in Aachen, Germany.
It offers a range of undergraduate, graduate, and doctoral programs in
Engineering;
Natural sciences; and
Medicine.
RWTH Aachen is best renowned for its strong research and innovation focus and close collaboration with industry partners.
With a diverse student body and a robust international presence, RWTH Aachen is a top destination for students seeking high-quality education and training in cutting-edge fields of their interest.
3. Technical University in Berlin
The Technical University of Berlin (TU Berlin) is popularly known as a research institution located in Berlin, Germany.
It offers a range of undergraduate; graduate; and doctoral programs in engineering, natural sciences, economics, and social sciences respectively.
TU Berlin is renowned for its focus on interdisciplinary research and innovation and its strong ties with industry partners within and afar.
With a diverse student body and a vibrant campus community, TU Berlin is a top destination for students seeking high-quality education and training in a variety of fields.
Read Also: 10 Best Norway Universities for International Students
4. University of Stuttgart
If you are looking forward to studying in Germany for your masters program then Germany is one of the top shots for you.
The school is popularly known generally as a school well versatile and good in interdisciplinary research and integration of engineering and also in the fields of study listed below:
natural,
cultural and
social sciences field.
The university has some distinct programs that mostly center on a sustainable life.
What this means is that, if you are an environmentalist and you want to dedicate your future to saving or rescuing the earth, then you have to make them University of Stuttgart your best choice.
5. University of Hamburg
The University of Hamburg is well knew and reagrded as a university of excellence.
This is what they are popularly known for. But notwithstanding, when it comes to academic ability, the school is also known for their execellence when it comes to research.
Also, the university has been awarded for excellence and outstandingng performance in the following fields of study:
Advanced Imaging of Matter (photon and nanosciences),
Climate,
Climatic Change, and Society
Understanding Written Artefacts and Quantum Universe (mathematics, particle physics, astrophysics, and cosmology).
And because of this awards, the university speak volumes about the quality of their education and it has helped to make the school to be recognise globally.
Read Also: 10 Cheapest University in Canada to Study Abroad
6. University of Leipzig
Do you know that the University of Leipzig is the second oldest university in Germany?
The school is regarded as one of the leading universities in Germany when it comes to top-class research and showing of medical expertise in the field.
Another thing worthy to note of is that this institution offers many masters level courses in fields such as:
social sciences,
business,
arts & architecture,
life sciences, etc.
If you get admitted into the school (Leipzig), then you are about to have one of the best experience of your life as a students.
7. Freie University of Berlin
Freie Universität is a comprehensive university that provides over 150 courses in various fields through its twelve departments and three central institutes.
The university's research achievements are characterized by its extensive global scientific collaborations and partnerships with other research entities, unique funding strategies for promoting young researchers, and the significant amount of external funding it has secured.
From 2019, Freie Universität will receive ongoing funding as a result of its inclusion in the Berlin University Alliance under the "Excellence Strategy".
8. Humboldt University of Berlin
The Humboldt University in Berlin is often regarded as one of the top universities in Europe.
The school is known also for its research. Its founder, Wilhelm von Humboldt, introduced a university model that emphasizes both teaching and research.
This is a concept that is adopted and used by many other universities throughout the world right now.
Read Also: Top Best Colleges in Canada For International Students
9. Karlsruhe Institute of Technology (KIT)
The Karlsruhe Institute of Technology (KIT) is a significant educational and research establishment in Germany that came into existence in 2009 following the merger of the Karlsruhe Research Center Forschungszentrum Karlsruhe and the University of Karlsruhe, also known as "Fridericiana," which had been functioning as a public research university since 1825. The Karlsruhe Research
Center was initially established in 1956 as a national nuclear research center referred to as the Kernforschungszentrum Karlsruhe (KfK).
The alumni network of Carl Benz School comprises graduates from the Mechanical Engineering College of the Karlsruhe Institute of Technology, who come from 50 different countries around the globe.
These graduates receive a top-notch education, enabling them to pursue various career opportunities worldwide, across different companies and industries.
10. Technische Universität Dresden
The TU Dresden is one of the eleven German universities of excellence and thus one of the top universities in Germany and Europe: strong in research, first-class in the variety and quality of the courses offered, closely networked with culture, business and society.
As a modern full university, with its 18 faculties, it offers a broad scientific spectrum that only a few universities in Germany can offer.
It is the largest university in Saxony and goes back to the Technical Educational Institute Dresden, founded in 1828; it is one of the oldest technical-academic educational institutions in Germany.
Prospective students who are considering studying in Germany should be aware that a Master's degree from a German university is highly coveted throughout Europe.
This is basically, a result of the country's extensive track record of delivering excellent higher education to both domestic and international students across boards.
But then, the availability of numerous English-language programs makes it an attractive option for foreign students to level on.
Those English courses make it a viable choice for individuals interested in advancing their studies in various fields of study.
Haven't said all of that about the Universities in Germany for Masters, I believe this post has met your search, and we welcome any feedback you may have.
Check our website for more study abroad programs.