Are you interested in OOU academic calendar for 2021/2022? If you are looking for OOU academic calendar for 2020 then am very happy to inform you that OOU academic calendar has been provided here in this post.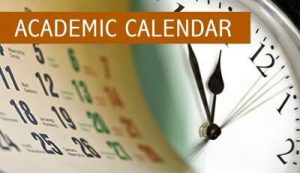 This is a notice to the general public as well as staffs and students of Olabisi Onabanjo University that OOU academic calendar for 2021 has been released by the management.
About OOU Academic Calendar
First of all, Academic calendar is a schedule of all of the events that occur in an academic year. These events may include examination dates, breaks, lecture periods, matriculation dates and other important events.
So, having said that, OOU academic calendar is simply a schedule of all of the events that will occur in Olabisi Onabanjo University for the academic year in question.
Note: We are going to update the academic calendar below with the latest OOU academic calendar. The one below is either outdated or no longer applies.
OOU Academic Calendar
Commencement of Lectures for Rain Semester – 13th September, 2021
End of Lectures – Friday, 19th November, 2021
Revision Week for Rain Semester – Monday, 22nd November, 2021 – Friday, 26th November, 2021
Rain Semester Examination – Monday, 29th November, 2021- Friday, 10th December, 2021
Marking/Processing of Results/Senate Consideration of Rain Semester Results/End of Session – Monday, 13th December, 2021 Friday 17th December, 2021
The management wishes to emphasize that the mode of delivery/days allotted for Lectures remains the same i.e. as done in the just concluded Harmattan Semester. The management, therefore, seeks the cooperation of the University Community in ensuring the commencement of Lectures (Virtual and Physical) and other related Academic Activities IMMEDIATELY to allow the Semester to be concluded on schedule and as approved by Senate.
In addition, the University Community is enjoined to avail themselves the opportunity provided by the University Authority to get vaccinated against the Corona Virus and to please maintain STRICTLY, all protocols regarding this Virus.
We are going to update this page as soon as any changes is made to OOU academic calendar by the management. Until then, continue checking this page and bookmark it for easy access to OOU academic calendar.