Are you looking for UMYU Examination timetable for 2020/2021 academic session? If you are interested in UMYU exam timetable for first (1st) or second (2nd) semester then am very happy to inform you that this post you are currently reading contains details on Umaru Musa Yar'Adua University examination time table.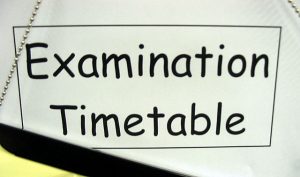 All the students of Umaru Musa Yar'Adua University are hereby informed that UMYU exam timetable for 2020/2021 academic session has been provided here in this post. Proceed below to check details on UMYU examination time table for either first semester or second semester. You will also get to see UMYU first semester exam date or second semester exam date.
UMYU Examination Date
UMYU undergraduate examination is starting on the …
The Management of Umaru Musa Yar'adua University, Katsina, has approved the shift of all second semester examinations slated from Monday, 19th July, 2021 through Saturday, 24th July, 2021.
Below are the changes and the effective dates for the examinations:
S/N EXAMINATION DAYS NEW EXAMINATION DAYS
1. Monday, 19th July, 2021 Wednesday, 11th August, 2021
2. Thursday, 22nd July, 2021 Thursday, 12th August, 2021
3. Friday, 23rd July, 2021 Friday, 13th August, 2021
4. Saturday, 24th July, 2021 Saturday, 14th August, 2021
However, all other examinations slated to hold from Monday, 26th July, 2021 – Tuesday, 10th August, 2021 shall hold as scheduled.
All students are strongly advised to take note of the changes and comply accordingly.
Thank you.
SIGNED.
UMYU Examination Timetable
Students are advised to check the school notice board to copy the timetable.
Note: UMYU examination timetable will be updated above as soon we have access to it.
We are going to update this page if there is any changes made to UMYU examination timetable by the management of the Umaru Musa Yar'Adua University. Until then, continue checking this page for details on UMYU 1st or 2nd semester exam time table.