Are you looking for OSUSTECH Examination timetable for 2020/2021 academic session? If you are interested in OSUSTECH exam timetable for first (1st) or second (2nd) semester then am very happy to inform you that this post you are currently reading contains details on Ondo State University of Science and Technology examination time table.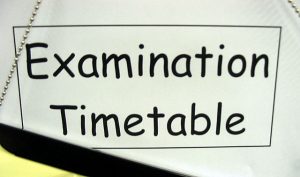 All the students of Ondo State University of Science and Technology are hereby informed that OSUSTECH exam timetable for 2020/2021 academic session has been provided here in this post. Proceed below to check details on OSUSTECH examination time table for either first semester or second semester. You will also get to see OSUSTECH first semester exam date or second semester exam date.
OSUSTECH Examination Date
August 2, 2021.
OSUSTECH undergraduate examination is starting on the 2nd of August, 2021.
The Senate of the Olusegun Agagu University of Science and Technology (OAUSTECH), Okitipupa at its emergency meeting today, 13 July, 2021 ratified the approval of mid-semester break and the extension of same, given by the Vice-Chancellor, on behalf of Senate. Senate, after reviewing the situation, also approved the resumption date of 26th July 2021 and a shift in the date of commencement of the 2019/2020 second semester examinations to Monday, 2 August, 2021.
Senate also directs that students be informed as follows:
The one week shift in examination date is to enable students undergo continuous assessments and conclude necessary registrations in preparation for the second semester examinations.
All students who have not paid up their tuition for the 2019/2020 session, including those owing for previous sessions, should pay such outstanding fees, through the online platform, before the resumption date of 26th July 2021.
All students should collect Bursary certified receipts for all payments and collect examination passes from their level coordinators as students without passes would not be allowed into the university facilities, including examination halls
In view of the 3 strain of the COVID-19 pandemic tagged the DELTA VARIANCE, which is said to be deadlier than the previous strains, students should be informed that all NCDC prescribed COVID-19 non-pharmaceutical prevention protocols would be enforced on all our campuses and students are to cooperate with the university authorities in that regard. Students are therefore expected to come with their face masks and alcohol-based sanitizers for personal use and keep to all COVID-19 rules with a view to guiding against the spread of the Virus in our University.
The University Management hereby promises to continue providing the enabling environment for teaching and research and therefore solicits the cooperation of staff, students and stakeholders to round off the current session which started in January, 2020. That, the Management believed, would forestall further extensions which may come as a result of any lockdown declared by the Federal or State Governments due to the unforeseen possible spread of the pandemic.
Above information is for strict compliance.
OSUSTECH Examination Timetable
Students are advised to check the school notice board to copy the timetable.
Note: OSUSTECH examination timetable will be updated above as soon we have access to it.
We are going to update this page if there is any changes made to OSUSTECH examination timetable by the management of the Ondo State University of Science and Technology. Until then, continue checking this page for details on OSUSTECH 1st or 2nd semester exam time table.